Product Highlights
A complete wireless follow focus kit with advanced controller, professional motor, and all accessories needed to use this kit on any set
Wireless signal interference will not occur with this kit, with 133 MHz wireless transmission protocol
The high torque motor doubles the maximum power without compromising any lens safety; the ultimate choice for cinema lens control
Save time by going wireless on set while having more control over your shot with built in REC support for all professional cameras, programmable focus stops, and two built-in hard stops
Professional support in North America with a 3-year warranty from an established North American company
Overview
Cinegears Digital Wireless Follow Focus Express+ Kit; control your focus remotely with a Cinegears Wireless Express+ Hand Controller, and give that heavy lens a little extra torque with a Cinegears Wireless Extreme Motor. Our kits come in our waterproof hard case with foam insertsand all the accessories you will need to use your kit right away.
With the addition of two built-in hard stops, controlling your lens focus, iris, or zoom comes naturally with our Cinegears Single Axis Wireless Express+ Controller. With up to 48 hours of continuous shooting per battery charge, shoot with precision from up to 100 meters away with jib, Steadicam, MoVI, and Gamble stabilizers, without sacrificing the mobility of your cameras or the integrity of the shot. The larger focus wheel feels more fluid, precise, and ergonomic, and the mounting harness allows you to use it like a finger wheel. Also included are two thick magnetic marking discs and a redesigned Lemo cable, with a right-angle connector that helps keep your wiring clean.
The Cinegears Single Axis Extreme Motor has been redesigned with your feedback in mind! With twice the torque you can move even the largest lenses with ease, but don't be afraid to use it with smaller lenses as well; while we've made it stronger, larger, and faster, it maintains the same delicate touch as the smaller model. Crafted from aluminum alloy with German made digital servo motors, the Single Axis Extreme Motor sports all the same features as the smaller model, including: built in receiver, and remote REC (start/stop) trigger port for ARRI, Sony, Canon, and Black Magic cameras.
Specifications: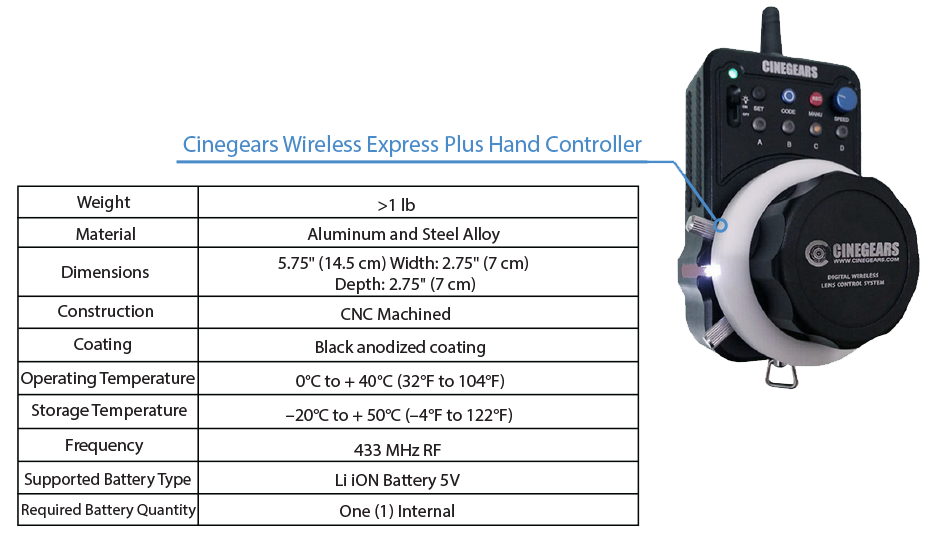 What is included:
1x CINEGEARS Wireless Extreme High Torque Motor
1x CINEGEARS Express Plus Wireless Controller
1x Motor Mounting Bracket 19mm Rail Adaptors
1 x 15mm-19mm Rod Bushings
2 x Thick Marking Disc Replacement
1 x Power Tap Converter Cable
1 x Extra Gear with 0.5 Pitch and Teeth
1 x Extra Gear with 0.6 Pitch and Teeth
1 x Extra Gear with 0.8 Pitch and Teeth
1 x Extra Gear with 1.0 Pitch and Teeth
1 x Steel Gears with Each one of the Motor
8cm Extended Bracket for 15mm Rod
Gear Re-locator
1 x Mini USB Cable for Battery Charge
1 x Water Proof Production Box with Foam Inserts